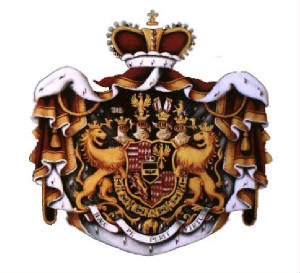 Mediatized House of Colloredo
Colloredo-Man(n)sfeld is an Austrian (former Bohemian) Princely dynasty which according to - unverified - family tradition descends from the Swabian Lords of Waldsee. Allegedly one Liebhart (Liobardo) of Waldsee came to Italy attendant King Conrad II and about 1031 was enfeoffed by Patriarch Poppo of Aquileia with Mels Castle near Udine in Friuli. His descendants from 1302 onwards had nearby Colloredo Castle erected as their residence.
The Colloredo family achieved the elevation to the noble rank of Freiherren by the Habsburg Emperor Rudolf II in 1588 and became immediate Reichsgrafen in 1724. Rudolph Joseph von Colloredo (1706-1788), Vice-Chancellor of Empress Maria Theresa, was appointed Prince of the Holy Roman Empire in 1763. The Colloredo-Mansfeld line emerged when his son Franz de Paula Gundaker von Colloredo in 1771 married Princess Maria Isabella of Mansfeld and was able to inherit her family's Bohemian estates upon the extinction of the dynasty's male line in 1780, while the original Mansfeld possessions passed to the Prussian Duchy of Magdeburg. The union of the Princely houses of Colloredo and Mansfeld was officially approved by decree of Emperor Joseph II in 1789 and was mediatised to the Austrian Empire in 1806.
After World War II the family was expelled from Czechoslovakia. Parts of the Colloredo's possessions, among them Dobříš Castle, were restored by the Czech Republic. A lawsuit over the arts collection at Opočno Castle is pending.
The Titles and Styles of the Princely House
The Head of the House bears the title of Furst von Colloredo-Mannsfeld together with the formal appellatin of Serene Highness and members of this family bear the title Graf or Gräfin von Colloredo-Mannsfeld; the eldest son of the Fürst bears the sole title of Graf von Mannsfeld.
The Genealogy of The Princely House

RUDOLF Gf von Colloredo, Gf zu Waldsee, Vicegf zu Mels, Mkgf zu Santa Maria, cr Reichsfürst von Colloredo 29 Dec 1763 (6 Jul 1706-1 Nov 1788); m.14 Jul 1727 Marie Gabriele Gfn von Starhemberg (28 Nov 1707-8 Nov 1793)

1a) Maria Antonie (d.2 Oct 1757); m.26 Jun 1746 Adalbert Prokop Gf Czernin von und zu Chudenitz (d.1777)

2a) FRANZ GUNDACKAR, Fst von Colloredo-Mannsfeld 26 Feb 1789 (28 May 1731-27 Oct 1807); m.1st 6 Jan 1771 Maria Isabella Gfn von Mansfeld (29 Aug 1750-21 Oct 1794); m.2d 8 Oct 1797 Maria Josepha Gfn von Schrattenbach (5 Jun 1750-1 Oct 1806)

1b) RUDOLF Fst von Colloredo-Mannsfeld (16 Apr 1772-28 Dec 1843); m.6 Jun 1792 Philippine Gfn zu Oettingen-Katzenstein (18 May 1776-18 Mar 1842)

2b) Marie Gabriele (3 Sep 1773-9 Mar 1788)

3b) Marie Henriette (3 Sep 1773-8 Mar 1814); m.24 Feb 1794 Emerich Josef Gf von Eltz (d.1844)

4b) Hieronymus (30 May 1775-23 Jul 1822); m.2 Feb 1801 Wilhelmine Gfn von Waldstein (9 Aug 1775-2 Feb 1849)


1c) FRANZ Fst von Colloredo-Mannsfeld (8 Nov 1802-28 May 1852); m.25 Sep 1825 Christine Gfn von Clam u.Gallas (18 May 1801-18 Mar 1886)


1d) Wilhelmine (Milan 16 Jul 1826-Vienna 19 Dec 1898); m.Prague 29 Apr 1845 Vincenz Fst von Auersperg (Dornbach 15 Jul 1812-Hietzing 7 Jul 1867)


2c) Wilhelmine Elisabeth (Vienna 20 Jul 1804-Hermanmestetz 3 Dec 1871); m.Prague 12 May 1825 Rudolf Fst Kinsky von Wchinitz u.Tettau (Prague 30 Mar 1802-Linz 27 Jan 1836)


5b) Ferdinand (30 Jul 1777-10 Dec 1848); m.1st 30 Nov 1810 Margherita von Ziegler (10 Apr 1779-23 Apr 1840); m.2d 9 Oct 1842 Emilie Frn von Metzburg (22 Aug 1807-24 Sep 1856)


1c) JOSEPH Franz Hieronymus Fst von Colloredo-Mannsfeld (Vienna 26 Feb 1813-Vienna 22 Apr 1895); m.Vienna 27 May 1841 Theresia von Lebzeltern (Vienna 27 Apr 1818-Vienna 19 Jan 1900)


1d) Hieronymus Ferdinand Rudolf Gf von Mannsfeld (Przemysl 20 Jul 1842-Blankenberg 29 Jul 1881); m.Prague 29 Apr 1865 Aglaë Gfn Festetics von Tolna (Tolna 2 Feb 1840-Vienna 1 Jun 1897)


1e) JOSEPH Hieronymus Rudolf Ferdinand Franz Maria Fst von Colloredo-Mannsfeld (Prague 17 Feb 1866-Paris 21 Feb 1957); m.1st Paris 18 Apr 1903 (div 1925) Lucy Jonquet (Surrey 24 Jan 1878-Rome 11 Apr 1940); m.2d (civ) Rueil 21 Oct 1925 (rel) Paris 3 Apr 1941 Marie de Smit (Omerville 10 Jul 1877-1973)

2e) Johanna (Dobris 27 Jul 1867-Brünn 26 Aug 1938); m.Vienna 23 Apr 1887 Aloys Fst von Schönburg-Hartenstein (Karlsruhe 21 Nov 1858-Hartenstein 20 Sep 1944)

3e) Marie Therese (Dobris 5 Aug 1869-Vomp, Tyrol 27 Feb 1960); m.1st Vienna 25 Apr 1892 Karl Gf von Trauttmansdorff-Weinsberg (Vienna 24 Mar 1864-Preßbaum 4 Jan 1910); m.2d Prague 5 Aug 1911 Adolf Gf von Trauttmansdorff-Weinsberg (Friedau 22 Jun 1877-k.a.Jaroslawice 21 Aug 1914)

4e) Hieronymus Hubertus Franz Alfred Ernst Maria (Dobris 3 Nov 1870-Prague 29 Aug 1942); m.Vienna 10 Aug 1909 (div 1926) Bertha Gfn von Kolowrat-Krakowsky (Teinitzl 21 Jun 1890-Auch, France 29 Jan 1982)


1f) JOSEPH Leopold Hieronymus Alexander Fst von Colloredo-Mannsfeld (Pola 4 Jun 1910-Salzburg 30 Jan 1990); m.1st Reith 25 Mar 1939 Anna Maria Rabl (Innsbruck 11 Jun 1908-Beamsville, Ontario 25 Jun 1953); m.2d Munich 1 Mar 1988 Antonia Raumer (b.Munich 20 May 1922)


1g) Kristina Josefine Nadine Maria (b.Prague 19 Dec 1940); m.1st Öblarn (civ) 10 Sep 1960 (rel) 11 Sep 1960 (div Vienna 28 May 1965) Georg Pr zu Fürstenberg (Strobl 13 Aug 1923-7 Jan 2008); m.2d Toronto 11 May 1966 (div Toronto 29 Jul 1973) Jan van Hamel (b.edinburgh 23 Jul 1943); m.3d Wadi Firan, Egypt 22 May 1975 (div Athens 16 Nov 1983) Michael Begert (b.Bern 5 Dec 1946)


2f) HIERONYMUS Medarus Alexander Felicianus Maria Fst von Colloredo- Mannsfeld (Berlin 9 Jun 1912-Zbiroh, Czech Republic 12 Dec 1998)

3f) Weikhard (29 Jul 1914-17 Jun 1946)

4f) Friedrich Hieronymus Heinrich Richard Maria (Berlin 3 Apr 1917-Öblarn, Austria 29 Jul 1991); m.1st St.Moritz 4 Jun 1946 (div 1955) Christa von Kries (Hamburg 4 Jun 1922-Dubrovnik 12 Sep 1972); m.2d Vienna 20 Oct 1975 Martine Andrieux (b.Saigon 8 May 1937)


1g) HIERONYMUS Weikhard Maria Fst von Colloredo-Mannsfeld (b.Monmouth, Illinois 16 Mar 1949); m.1st Öblarn (civ) 14 Jun 1975 (rel) 15 Jun 1975 (div 1977) Alexandra von Glasenapp (b.Munich 26 Feb 1955); m.2d (civ) Vienna 26 Jul 1979 (rel) Kleinsölk, Styria 28 Sep 1982 Livia Anna Fuchs (b.Prague 3 May 1956)


1h) Paul-Josef Hieronymus Maria Gf von Mannsfeld (b.Vienna 8 Jun 1981); m.Admont 17 Jul 2010 Elke Taus (b.Rottenmann 17 Apr 1982)

2h) Lelio Friedrich Georg (b.Vienna 24 Jan 1985)

3h) Anna-Livia Christa Elisabeth (b.Schladming 19 Jan 1997)


2g) Isabella Josefa Maria (b.Geneva 29 Feb 1952)


5e) Ernestine Karoline Marie Timothea (Dobris 24 Jan 1873-1961); m.Miletin 11 Sep 1909 Maximilian Steinlechner (d.Vienna 10 Jul 1937)

6e) Ida (22 Aug 1875-16 Aug 1887)


2d) Karoline (Vienna 24 Feb 1844-Mühlbach 27 Sep 1916); m.Vienna 25 Nov 1872 Josef Gf von Gudenus (Mühlbach 31 Jul 1841-Mühlbach 17 Aug 1919)

3d) Ida (23 Aug 1845-5 Apr 1914); m.21 Aug 1877 Leopold Frhr von Gudenus (d.1913)

4d) Franz de Paula Ferdinand Gundaccar (Vienna 1 Aug 1847-Sierndorf 22 Oct 1925); m.1st Prague 23 Jan 1874 Maria Frn Lexa von Aehrenthal (Doxan 26 May 1850-Volosca nr Fiume 5 May 1881); m.2d Groß-Skal 6 Sep 1884 Elisabeth Frn Lexa von Aehrenthal (Prague 2 Mar 1858-Sierndorf 29 Jul 1890)


1e) Marie Felicia Theresia Elisabeth (Sierndorf 24 Jul 1875-Vienna 29 Jul 1959)

2e) Rudolf Josef Ferdinand Maria (Sierndorf 16 Aug 1876-Sierndorf 21 Mar 1948); m.Schloß Sichrow 20 Sep 1922 Johanna Pss Rohan (Sichrow 16 Jul 1890-Vienna 15 Mar 1961)


1f) Maria Johanna Ernestine Bertha Sylvia (Vienna 25 Jul 1923-Arnstorf 28 Aug 2010); m.Sierndorf 19 Apr 1969 Anton Frhr von Aretin (Munich 15 Aug 1918-Aldersbach 12 Jun 1981)

2f) Agnes Maria Felicia Franziska Johanna Judith (Sierndorf 5 Dec 1924-Peapack, New Jersey 17 Aug 1970): m.Vienna 15 Sep 1956 Friedrich Wilhelm von Meister (London 19 Jul 1903-Peapack 6 Jul 1978)


3e) Ferdinand Johannes Hieronymus Maria (Sierndorf 5 Jun 1878-Vienna 18 Dec 1967); m.New York 10 May 1909 Eleonore Iselin (New York 27 Dec 1881-New York 25 Feb 1939)


1f) Franz Ferdinand Romanus (Rome 1 Mar 1910-k.a.nr Berck-sur-Mer, France 10 Jan 1944); m.Boston, Massachusetts 3 Oct 1933 Mabel Bayard Bradley (Boston 4 Mar 1912-Needham, Massachusetts 6 Mar 1965)


1g) Mabel Bayard Elizabeth (b.New York 28 Aug 1936); m.1st New York 27 Aug 1959 (div 1969) Frederick Romley (b.1936); m.2d Upper Marlborough, Maryland 27 Oct 1972 Peter Silitch (b.New York 26 Sep 1935)

2g) Franz Rudolf Maria (b.Paris 10 Aug 1938); m.Munich 20 Sep 1962 Maria Alexandra Pss von Thurn und Taxis (b.Prague 21 Oct 1939)


1h) Antony Georg Ferdinand Maria (b.Vienna 25 Apr 1964); m.Vienna 3 Sep 1988 Claudia Dorothea Pless (b.Vienna 5 Sep 1965)


1i) Jacob Ernst Rudolf Maria (b.Vienna 23 Feb 1995)

2i) Laura Dorothea Maria (b.Tulln 22 Aug 1997)


2h) Theresita (b.Vienna 27 Dec 1965); m.Salzburg 22 Jul 1996 (rel) Sierndorf 28 Jun 1997 Christoph Lieben-Seutter (b.Vienna 3 Jun 1964)

3h) Nikodemus Ferdinand Christian Bruno (b.Vienna 10 Nov 1969); note: in the announcement of his engagement in 2003, his final Christian name is given as Marie, and not Bruno; m.Pierry 21 Jun 2003 Valérie Anne-Marie Paola Taittinger (b.Neuilly 23 Dec 1972)


1i) Ludmilla Almerie Simone (b.Warsaw 21 Feb 2004)

2i) Leopold Christian Rudolf Maria (b.Lausanne 14 Oct 2007)


4h) Mabel Marie Frederike Johanna (b.Sierndorf 8 Oct 1978)


3g) Ferdinand Peter Ernst (b.London 19 Sep 1939); m.Boston 25 May 1962 Suzanna Lawrence (b.Boston 4 Nov 1940)


1h) Franz Ferdinand (b.Boston 28 Jan 1963); m.Boston 30 Jul 1988 Anne Dowden (b.New York 1 Apr 1963)


1i) Franz Josef (b.Boston 25 Apr 1990)

2i) Johann Ferdinand (b.Boston 6 Jan 1994)

3i) Simon Rudolf (b.12 Jul 1995)

4i) Anne Peabody (b.30 Jul 1999)


2h) Rudolf Josef (b.Boston 11 Apr 1965); m.Jackson Hole, Wyoming 11 Jul 1992 Franchesca Varcoe (b.Swaziland 29 Mar 1964)


1i) Schuyler John, b.Santa Monica 11 Jan 1996

2i) Mia Wendy, b.Santa Monica 30 Sep 1997

3i) Zoe Elisabeth (Liesl), b.Iowa City 27 Sep 2002


3h) Anne Elizabeth (b.Boston 3 Nov 1967); m.Hamilton, Massachusetts 28 Nov 1992 Donald Kent Penfield (b.Middleton, Connecticut 30 Apr 1962)


2f) Marie Eleonore (Paris 13 Aug 1913-Vienna 4 Sep 1955); m.New York 21 May 1938 Friedrich Wilhelm von Meister (London 19 Jul 1903-Peapack, New Jersey 6 Jul 1978)


4e) Isabella Therese Josephine Aglaë (Volosca 20 Apr 1881-Vienna 7 Sep 1972)

5e) Franz de Paula Gundaccar Alois Hieronymus Elias Maria (Sierndorf 11 Oct 1885-Vienna 12 Feb 1935); m.Mariazell 15 Apr 1931 Marie Gfn von Walderdorff (Wels 7 Mar 1891-Ensegg, Upper Austria 17 Aug 1973)

6e) Aglaë Elisabeth Marie Therese (Sierndorf 12 Dec 1886-Vienna 17 Feb 1964)

7e) Elisabeth Maria (Sierndorf 15 Jul 1890-Vienna 5 Oct 1979)


2c) Ida (13 Feb 1816-5 Jun 1857); m.10 May 1840 Alfons Gf von Collalto (d.1890)


3a) Hieronymus, Bp of Gurk 1761, Archbishop of Salzburg 1772 (31 May 1732-20 May 1812)

4a) Joseph Maria (11 Sep 1735-26 Nov 1818)

5a) Wenzel Joseph (15 Oct 1738-1822)

6a) Marie Gabriele (23 Jun 1741-23 May 1801); m.27 Jan 1762 Johann Gf Pálffy von Erdöd (d.1791)

7a) Marie Therese (18 Jul 1744-14 Aug 1828); m.16 Jun 1776 Eugen Gf von Schönborn-Buchheim, zu Heussenstamm (17 Jan 1727-Vienna 25 Jul 1801)

8a) Marie Franziska (2 Apr 1746-25 Jan 1795); m.27 Nov 1765 Stephan Olivier Gf Wallis (d.1832)

9a) Marie Caroline (14 Feb 1752-20 Sep 1832); m.18 May 1772 Franz Ferdinand Fst von Trauttmansdorff (d.1827)